Youth Basketball League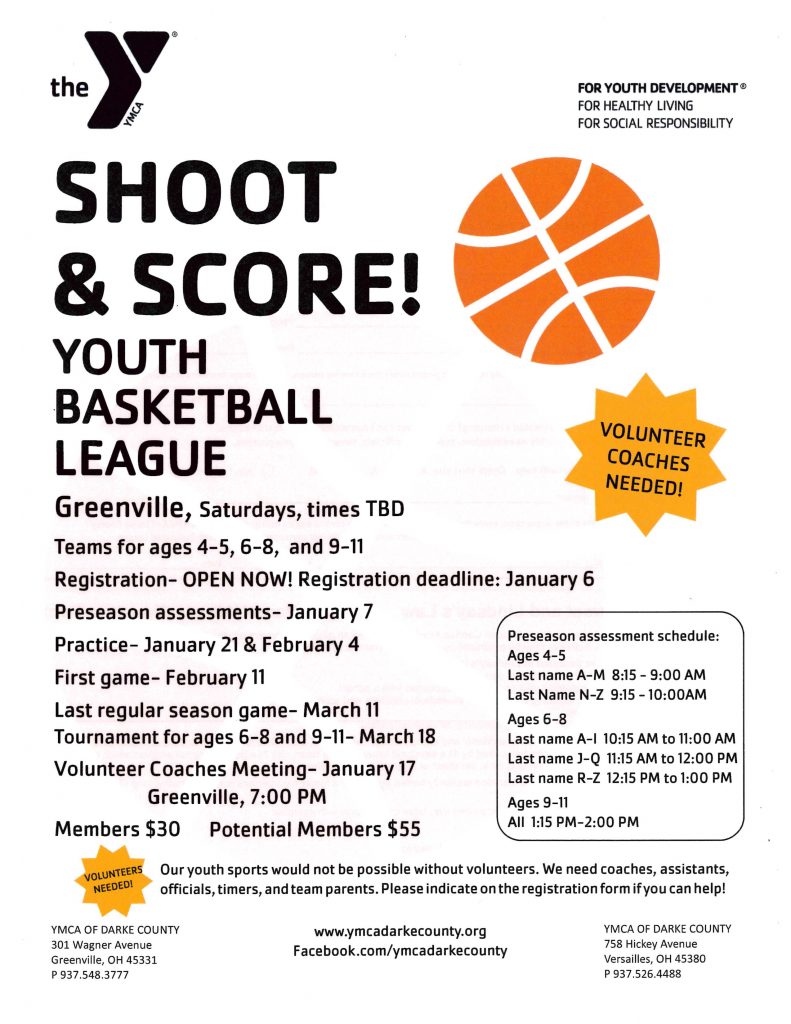 The YMCA of Darke County basketball league is for ages 4-11. This program is a youth recreational league that allows participants of all levels a chance to play. At the Y, every child plays! The league will emphasize basketball skill development, good sportsmanship. character development, teamwork, and most importantly, FUN!
Registration is open now!
Registration Deadline: Friday, January 6
League location: Greenville, Saturday mornings
Age divisions:
Ages 4-5 coed
Ages 6-8 coed
Ages 9-11 coed
REGISTRATION FEES:
Member | $30
Potential Member | $55
Pre-season assessments- Saturday, January 7.
Assessments are important because they help us distribute players more equally into teams.
Ages 4-5
Last name A-M 8:15 – 9:00 AM
Last Name N-Z 9:15 – 10:00AM
Ages 6-8
Last name A-I 10:15 AM to 11:00 AM
Last name J-Q 11:15 AM to 12:00 PM
Last name R-Z 12:15 PM to 1:00 PM
Ages 9-11
All participants 1:15 PM-2:00 PM
Important Dates:
Tuesday Jan. 17, 7:00 PM Coaches Meeting
Sat. Jan. 21 and Sat. Feb. 4- 1st & 2nd practice (NO PRACTICE January 28)
Sat. February 11- First regular season game
Sat. March 11- Last regular season game
Sat. March 18- Tournament games for ages 6-8 and 9-11.
Want to make an impact on the youth in our community? Our leagues would not be possible without volunteers! We need volunteer coaches, assistants, officials, timers, and team parents. Please let us know if you can help! Volunteers may attend the coaches meeting on January 17 to learn more.