Greenville Facility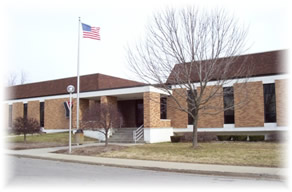 301 Wagner Avenue
Greenville, Ohio 45331
(937) 548-3777
Hours
Monday – Friday: 5:00 am – 9:00 pm
Saturday: 8:00 am – 4:00 pm
Sunday: Closed
Please note: the pool will open 30 minutes after the building opens, and will close 30 minutes before the building closes.
Child Development Center Hours
Monday – Friday: 5:30 am – 6:00 pm
Child Watch Hours
Monday-Thursday 5:00 PM – 8:00 PM
Children may be in Child Watch 1.5 hours per day.
Child Watch is complimentary to parents for their children ages 6 weeks to 7 years who are included on their YMCA of Darke County family membership.
CLOSED
New Years Day – Easter Sunday – Memorial Day
Independence Day – Labor Day – Thanksgiving – Christmas
ALL LEVEL 3 SNOW ADVISORIES
FEATURES
Heated 6- lane, 25 yard long swimming pool
Free-weight center with dumb bells up to 100lbs, olympic barbells, bumper plates, kettlebells, two power racks, two flat benches, incline and decline benches, Smith Machine, cable stacks, leg press, and more (ages 14-17 must be with parent, or to use this room independently, must complete Y's Teen Orientation. See Welcome Center to schedule.)
Indoor basketball Court
Racquetball courts
Gymnastics arena
Indoor tennis courts
Pickleball nets and equipment
Indoor walking/running track – 1/10th of a mile per lap
Adult Only Locker Rooms with Sauna
Regular Locker Rooms
Family/Special Needs Locker Room
Hot Tub/Spa- adults only
Steam Room
Cardio-strength room, with a full circuit of strength machines, plus cardio equipment including treadmills, steppers, elliptical machines, bikes, recumbent bikes, a rower, a seated elliptical, and adaptive motion trainers (ages 14-17 must be with parent, or to use this room independently, must complete Y's Teen Orientation. See Welcome Center to schedule.)
Aerobics studio
Party room
Conference room
Child Development Center