SUMMER DAY CAMPS AT THE YMCA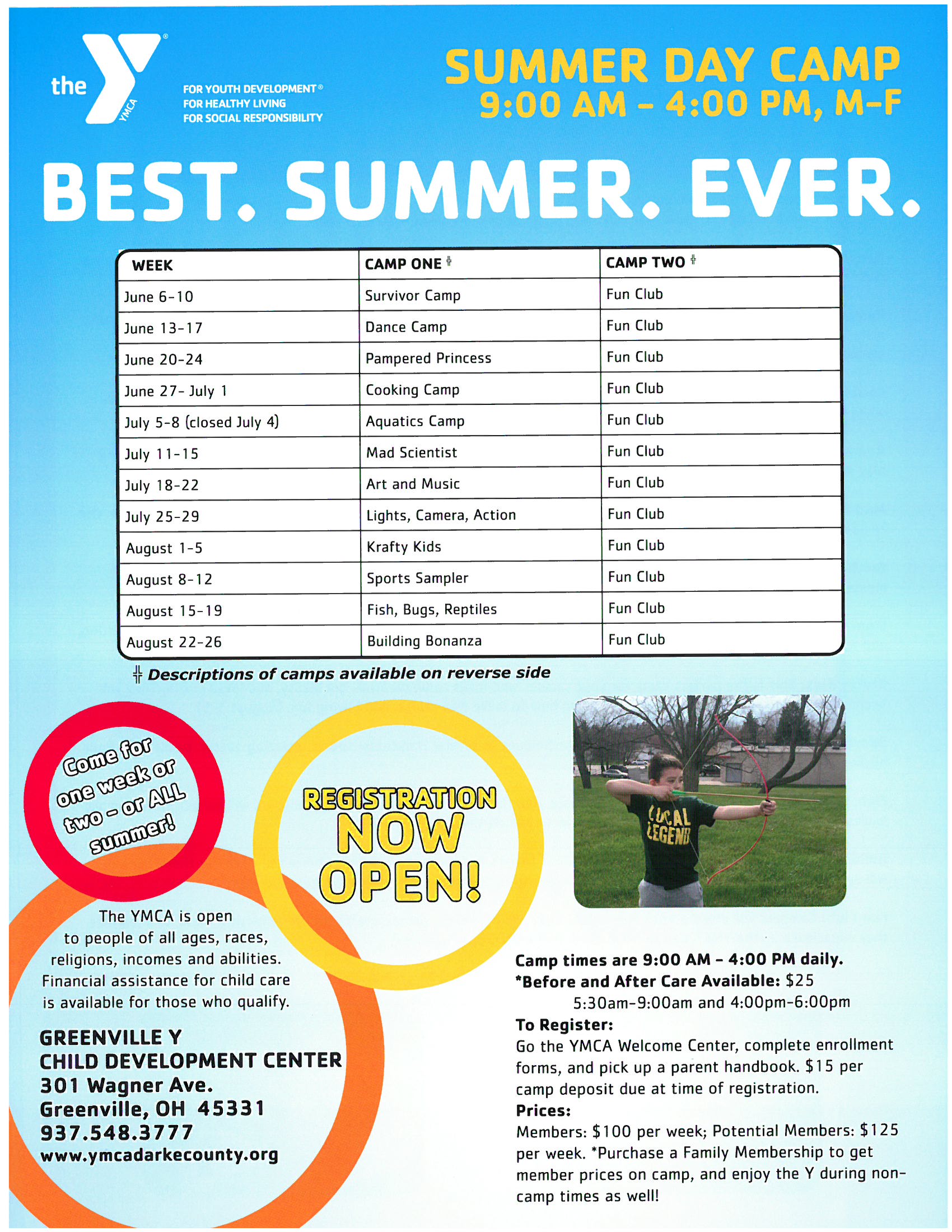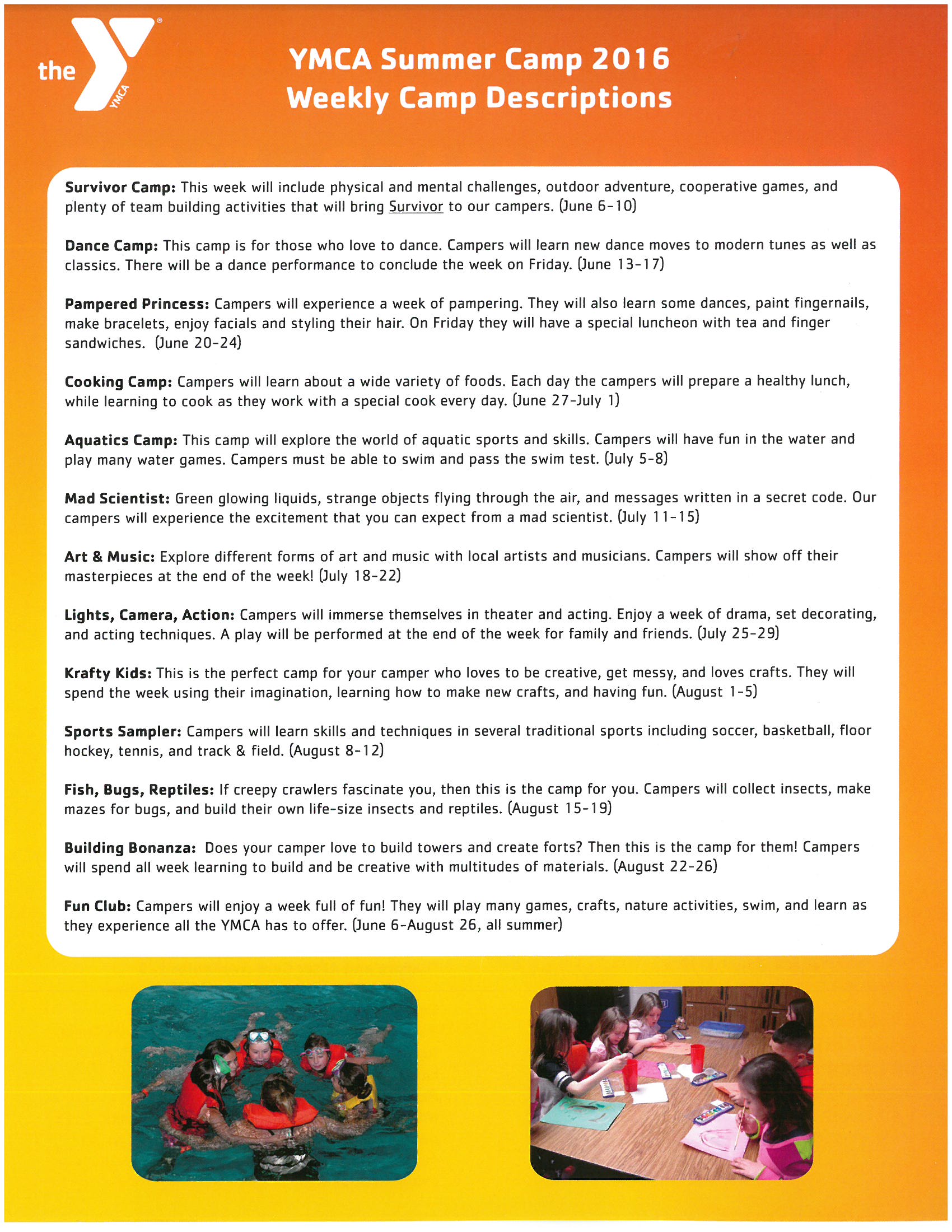 [Darke County- May 5, 2016]  Summer is a critical time for kids' health. When kids are out of school, the extra free time and increasing technological distractions, such as television, cell phones or video games, make it harder for kids to practice healthy habits. Research shows that without access to out-of-school physical and learning activities, kids fall behind academically. Kids also gain weight twice as fast during summer than the school year. A great way for kids to stay active and learning this summer is the Y's Summer Day Camps.
To give youth an adventurous, active and healthy summer, the YMCA of Darke County is offering day camp for youth. YMCA camp programs provide a fun and unique experience that gives children and teens the opportunity to explore the outdoors, meet new friends, discover new interests and create memories that last a lifetime.
"Our day camps provide a variety of opportunities to help ensure that youth are learning and being physically active in the summer, a time of exploration," said Sam Casalano, CEO, YMCA of Darke County. "Campers also learn how to be responsible and resourceful, work in groups, solve problems and make decisions that will help them grow as individuals – all while having fun."
"Our focus for our youth this summer is, as always, to address the summer learning loss initiative as well as provide an enrichment opportunity to our youth through our specialty camps and core values," added Katie Roberts, Child Development Center Director.
Registration for the upcoming day camp season is open. Kids can choose which week they'd like to attend, or attend camp all summer long! The YMCA of Darke County offers full time summer day camps from 9am- 4pm, Monday through Friday, June through August. Before- and after-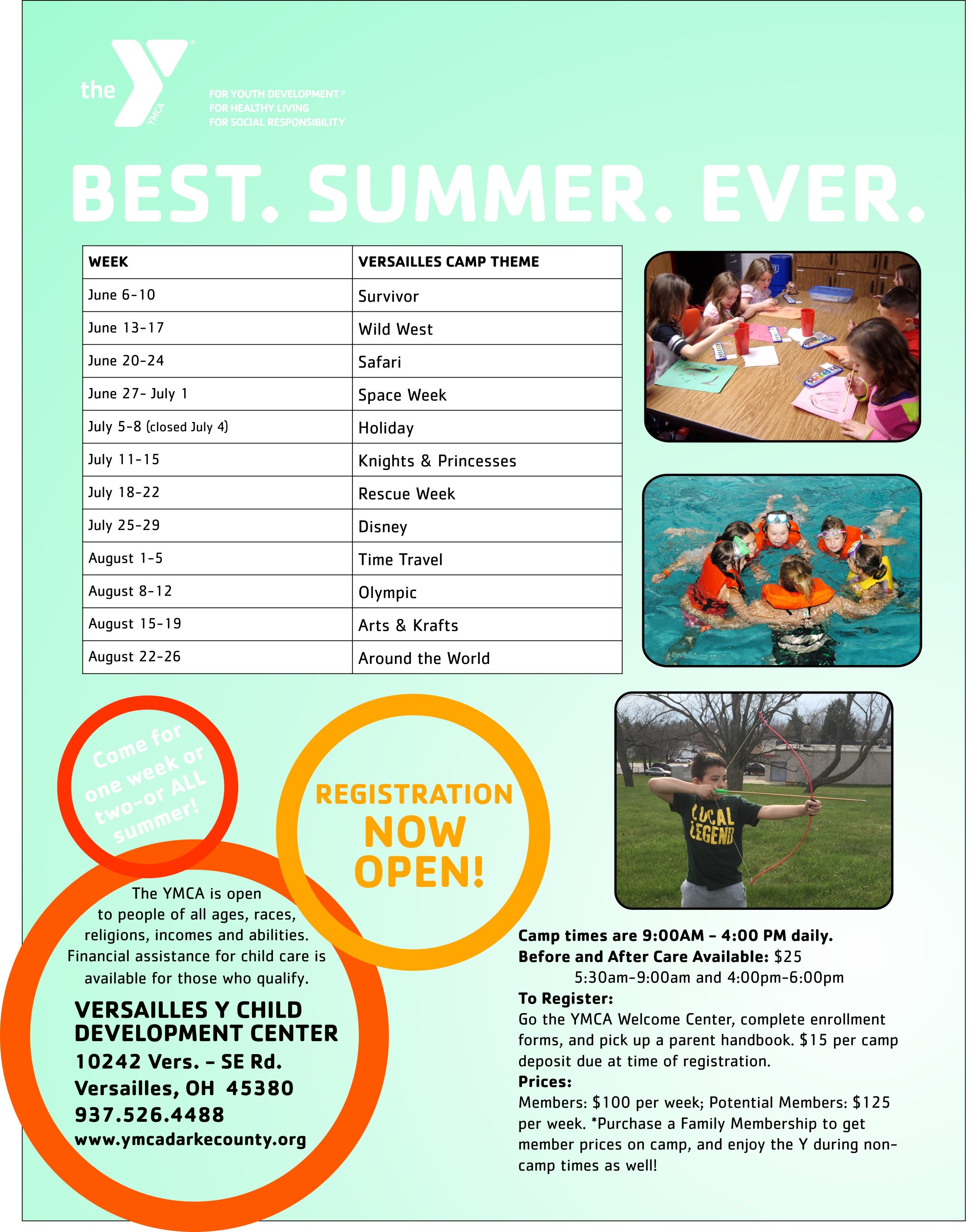 care is also available for 6:00 Am- 9:00 AM and 4:00 PM- 6:00 pm.
Camp prices are $100 per week for Y members and $125 per week for Potential Y Members.
Before and After care is $25. To register, visit either Darke County Y location, complete enrollment forms, pick up a parent handbook, and pay a $15 per camp deposit due upon registration.
In Greenville, each week features two different camps to choose from. One is a themed camp, such as Dance Camp, Mad Scientist Camp, Krafty, Kids, Sports Sampler, or Cooking Camp. Fun Club is the second camp option, with each week including all the Y has to offer, including swimming, games, nature activities, crafts, and more. In Versailles, kids will have a different themed camp each week. See Greenville camp flyer page 1 here. See Greenville camp flyer page 2 here. See Versailles Camp Flyer here. 
To ensure that all youth have the chance to experience camp, the YMCA of Darke County offers financial assistance to those in need.
For more information, contact the YMCA of Darke County at 937-548-3777 or visit www.ymcadarkecounty.org.